Web Hosting
All our plans for Windows
Hosting are specially created for
multi-domain hosting.

Web Promotion
Have a look at our promising services to promote your business.

Popular services






Want to get started?
Call us: +91 8460 366 366 or
Email us: info@concotech.com
Brochure Designing
Distinguish yourself from competition with a custom brochure design, sales sheet, presentation folder or postcard design. Brochures are perfect to use as direct marketing, sales and tradeshow and promotional collateral.Brochure design service help business firms of all sizes and industries to convey their message with professionally design brochure & catalogues, advertising material and newsletters.Whether you need a mailer design, a flyer design, tri-fold brochure, sales brochure, marketing brochure, catalog design service, we have the expertise to deliver professional brochure design within your timeframe.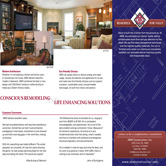 Our creative brochure design team assesses your objectives, research, photography to create corporate brochure or catalogue design.

Free Speech
If you'd like to talk to someone about our business and services, please call
+91 - 8460 366 366
PRIVACY POLICY